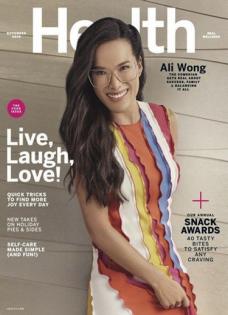 We recommend Zinio.com for your health magazine subscription. Zinio.com is the leading digital magazine and book company that delivers anywhere in the world by internet, including Canada and the U.K. Because its a digital subscription you can view your magazines on a Iphone, tablet, notebook and laptops. Plus, Zinio.com lets you choose whether you want to use auto-renewal or not.

Zinio.com Subscriptions -- Things to consider.
Zinio.com's Guarantee: Refund for all undelivered issues.

Delivery: Delivery is quick and easy right on your digital device using the internet.

Auto-Renewals: The choice is yours: when purchasing a subscription, you can choose to automatically renew or to let your subscription expire at the end of the term unless you take action to renew.

Zinio.com's health Description: Health - Digital format, immediate delivery.

About Zinio.com: Zinio is revolutionizing reading. Through digital products and services, the Company creates better ways for people to discover published content, get more of it and do more with it. Zinio works closely with publishers worldwide to reinvent reading. For consumers, Zinio enables the ability to shop for, search inside, reokad, share and save digital content in new ways and on many devices. With over 50,000 digital magazines and books, and e-stores localized in 15 languages, zinio.com is the largest online newsstand in the world. Founded in 2001 and privately held, Zinio is headquartered in San Francisco and has offices in New York, London, Paris, Barcelona and Taipei. Zinio gives you a better way to read.

Prices and details for magazines are subject to change for each individual merchant. Click on the Order Info buttons above to view the most up-to-date prices and information.


Zinio.com Subscriptions -- Things to consider.