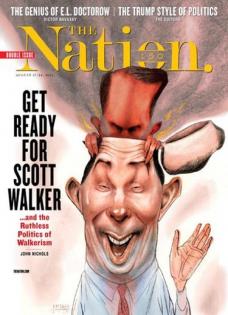 We recommend MagazineLine.com for your The Nation magazine subscription. MagazineLine.com offers more than 900 magazine subscriptions at great discount prices. This is a great website for gift subscriptions, offering many payment options including Send Me a Bill. MagazineLine.com offers Special Deals for Students & Educators on many of their most popular magazine subscriptions.

MagazineLine.com Subscriptions -- Things to consider.
MagazineLine.com's Guarantee: If you're ever dissatisfied with any magazine you order from us, we'll gladly send a prompt refund for all undelivered issues.

Delivery: Subscriptions start with the next unlabeled issue when they receive a new order. Therefore, the time it takes the publisher to start a subscription depends on how frequently the magazine is published, the timing of the order in their labeling cycle, and the individual publisher.

Gift Subscriptions: To order a magazine as a gift just click the 'Buy as a Gift' button for the magazine you want to order. Once in the shopping cart you can see that a magazine will be ordered as a gift by verifying that the "Gift" box is checked under "Order Options." As you proceed through the checkout you will have the opportunity to add your recipient's mailing address.

Renewals: We can renew most of the magazines we offer whether the current subscription is through us or another source. There are a few publishers that only allow us to accept new orders. Contact us for more information.

MagazineLine.com's The Nation Description: Published since 1865, The Nation Magazine is America's oldest weekly magazine, specializing in opinion journalism, hard-hitting investigative reporting, and coverage of news not likely to be found anywhere else. The Nation Magazine is filled with lively editorials and in-depth political analysis, as well as an original look at theater, films, books, architecture, and music.

About MagazineLine.com: MagazineLine, the magazine subscription division of American Collegiate Marketing (ACM). Founded in 1974, we have provided satisfied customers with millions of discount subscriptions at up to 85% off the cover price.

MagazineLine.com Phone Number: 800-959-1676

Prices and details for magazines are subject to change for each individual merchant. Click on the Order Info buttons above to view the most up-to-date prices and information.