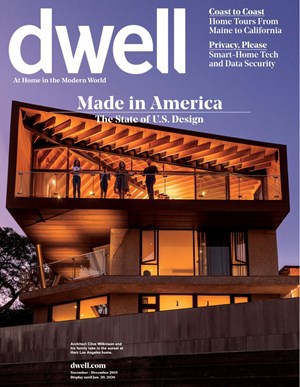 We highly recommend Magazine-Agent.com for your Dwell magazine subscription. Magazine-Agent.com is our #1 selling site. They have a very easy-to-use subscription form and their website makes it easy to manage your subscriptions, gift subscriptions and renewals. Their delivery and prices are among the best on the internet along with a great guarantee and customer service.

Magazine-Agent.com Subscriptions -- Things to consider.
Magazine-Agent.com's Guarantee: Your complete satisfaction is always our top priority at Magazine-Agent.com. If you find that within the first three months of placing your order that you are not 100% satisfied, for any reason, let us know and we will gladly give you a full, prompt refund. After three months, if you find that you no longer wish to receive a magazine, we will be happy to provide a pro-rated refund for any unserved issues.

Delivery: Weekly or more frequently published magazine should arrive within 4 to 6 weeks of your order. The first issue of a magazine published 10 to 12 times a year should arrive within 6 to 8 weeks and sometimes up to 10 weeks depending on the publication. Less frequently published magazines, such as quarterly or magazines not published on a regular schedule, can take up to 11 weeks. These are standard industry lead times and every effort will be made to expedite your order. Please note that your subscription ultimately starts when you receive your first issue, not when you place your order. This simply means that you will receive all the issues you subscribed to or be promptly refunded as our policy states.

Auto-Renewals: At the end of the subscription term you'll receive an email notification when it's time to renew, at that time let us know if you choose not to renew your magazine. Otherwise, we'll charge the credit or debit card you used to make the original purchase.

Gift Subscriptions: Magazines make great gifts and we make them easy to order as gifts! For no additional charge we will give you the choice of either mailing a gift card or sending a custom e-card to announce your gift.

Renewals: You may always renew an existing magazine no matter how or where you originally subscribed even if you didn't order through our site. The additional issues will be added to your existing subscription. To avoid any issues please make sure that the name and address you use match the label from your current subscription.

Magazine-Agent.com's Dwell Description: Launched in the year 2000, Dwell is an architecture and design magazine that is devoted to the modern aesthetic. As one of the only of its kind, this publication explores the concept of considering both the interior and exterior designs of a home while striving for ultimate harmony. Dwell magazine is also well known for its keen attention to environmentally conscious options and availabilities in the efforts to modernize your home. Within the last few years, Dwell has received the National Magazine Award for General Excellence and Adweek's Creative Team of the Year Award. Every issue offers information on the newest and freshest innovations in the industry, with artful photographs to accompany nearly every article. As the magazine's motto states, Dwell strives for you to always feel 'At Home in the Modern World.'

About Magazine-Agent.com: Magazine-Agent.com has been in business for over ten years, and is the second largest Internet-based magazine subscription agency. Our website offers fixed term and continuous service subscriptions for over 1,000 publications, and is driven by a trusted business to consumer relationship.

Magazine-Agent.com Phone Number: 888-590-0030

Prices and details for magazines are subject to change for each individual merchant. Click on the Order Info buttons above to view the most up-to-date prices and information.


Magazine-Agent.com Subscriptions -- Things to consider.
Magazine-Agent.com Site Customer Reviews - - Average Rating :
5 of 5 Stars
I've used magazine-agent.com for years with only minor problems which they handled to my satisfaction immediately.

5 of 5 Stars
This is how the internet is suppose to work. It's the only way to order and keep track of your magazine subscriptions. I rate it 5 stars.