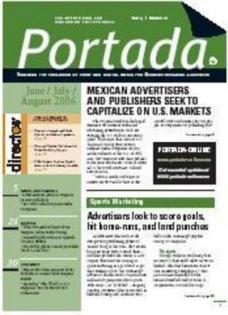 We highly recommend Magazines.com for your Portada magazine subscription. Magazines.com is one of the oldest and most respected magazine sites with over two thousand authorized magazine titles to choose from. Their delivery and prices are usually the best along with a great guarantee and customer service. For all-around reliability and competitive pricing, Magazines.com is one of our top suppliers.

Magazines.com Subscriptions -- Things to consider.
Magazines.com's Guarantee: Our customers will be 100% satisfied or they will receive a 100% refund for all undelivered issues, at any time, for any reason.

Delivery: The delivery of your first issue depends on the publication frequency of the magazine you ordered. Generally, publishers ask that you allow 4-6 weeks for weekly magazines, and 6-8 weeks for monthly magazines, and up to 12 weeks for less-frequently published magazines. However, you can expect faster delivery of many of our top-selling magazines. If you have not received your first issue within the estimated time period, simply call Customer Care toll-free at 1-800-MAGAZINES (800-624-2946) weekdays from 7:00 a.m. to 9:00 p.m. CT or on Saturday from 9:30 a.m. to 6:00 p.m. CT.

Auto-Renewals: Preferred Subscription Service allows you to continue your subscription at the end of the subscription term without the hassle of remembering when to renew. You'll receive an email notification when it's time to renew, at which time you can choose not to renew your magazine. Otherwise, we'll charge the credit or debit card you used to make your purchase at the low subscriber rate then in effect. You may cancel at any time during your subscription by contacting Customer Care at 1-800-MAGAZINES. As always, Preferred Subscription Service orders come with the Magazines.com Satisfaction Guarantee.

Gift Subscriptions: Giving gift subscriptions is easy. Select the magazine you'd like to give, and click 'Add To Cart'. During the checkout process, click the 'gift' box. Then, fill in your friend's name and address and jot a brief message that will appear on the recipient's gift announcement card. Fill in your payment information, and you're all set.

Renewals: To renew a current subscription even if it wasn't originally ordered from us simply complete the order information by listing your name and address as it appears on your current mailing label. Your order will be added to the end of your current subscription.

Magazines.com's Portada Description: Portada's mandate is to help executives in Business and Media understand and reach Hispanic and Latin American consumers. Portada strives to put its audience ahead of the curve so it can navigate change in the digital age. Portada also offers databases to advertising media and PR professionals.

About Magazines.com: Magazines.com is the oldest, the largest, and the most dependable magazine subscription service on the Internet. We are a privately-held company based in Franklin, Tennessee, a suburb of Nashville. In 2003, we acquired the leading online subscription service for free business magazines. Magazines.com was recently ranked by Hitwise, the leading online competitive intelligence service, as one of the Top 10 websites in the Shopping and Classifieds-Books category based on the market share of U.S. visits received.

Magazines.com Phone Number: 800-624-2946

Prices and details for magazines are subject to change for each individual merchant. Click on the Order Info buttons above to view the most up-to-date prices and information.


Magazines.com Subscriptions -- Things to consider.
Magazines.com Site Customer Reviews - - Average Rating :
1 of 5 Stars
bad i do not like the tv guide

5 of 5 Stars
I like Sojourners and look forward to the editions, although I would like to see more articles related to injustice against the LGBT community.

5 of 5 Stars
excellent price and great customer service. Thank you.

5 of 5 Stars
I love Woman's Day magazine. I just love all the articles and the recipes. I can't wait receive my new magazine in the mail. I usually read it right away when I get it.

5 of 5 Stars
Have had zero problems ordering from magazine.com. I would recommend it to my friends and family.