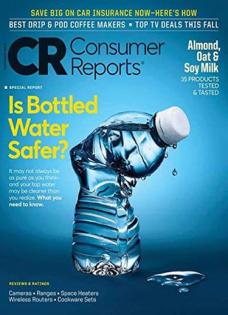 We recommend ValueMags.com for your Consumer Reports magazine subscription. ValueMags.com offers the most popular magazine subscriptions available at great prices. With no auto-renewal or continuous subscription required, your credit card will never receive surprise magazine subscription charges. Great for gift subscriptions.

ValueMags.com Subscriptions -- Things to consider.
ValueMags.com's Guarantee: 100% Satisfaction Guaranteed

Delivery: Publishers ask that you allow 4 to 6 weeks (weekly magazines) and 6 to 10 weeks (monthly magazines) for delivery to start. Other less frequently published magazines may take longer to arrive. If you have not received your subscription within the expected time frame, please send us an email and we'll track it down.

Auto-Renewals: ValueMags will never automatically renew your magazine subscriptions. ValueMags will simply send you an email and give you the option to renew your magazine subscription. No pressure, and No tricks.

Gift Subscriptions: ValueMags will send a Free post card announcing your gift subscription! When you reach the order confirmation page, click "Add" next to each magazine and enter a personal message to be included on the gift card. A Free Gift Card will be sent to each recipient.

Renewals: In your shopping cart, notice the column called 'renewal'? Change the 'No' to 'Yes' and when you check out make sure your shipping address is the same as it appears on the label of your current magazine.

ValueMags.com's Consumer Reports Description: The editorial focus of Consumer Reports is to provide information about different products to general consumers. It evaluates all products on an unchanging and thorough scale to provide a fair evaluation for individuals seeking to purchase. Consumer Reports evaluates a vast array of products ranging from automobiles to microwave ovens, from frozen dinners to insurance policies. Findings are presented in easy-to-read reports that employ the clear, ingenious system of colored dots ranking performance in specific areas. Along with reporting their findings, Consumer Reports offers advice on how to be a better shopper, whether it's how to read a car's price sticker or choose fresh fish.Order now and get 12 issues + the Annual Buying Guide. A $9.99 value!

About ValueMags.com: ValueMags is directly authorized to sell the magazines listed on its site. That means that you will get the best possible price and service. Since 1999, ValueMags has offered the most popular magazine subscriptions available for the best prices, guaranteed! With no auto-renewal or continuous subscription required, your credit card will never receive unwanted charges.

ValueMags.com Phone Number: 800-303-0344

Prices and details for magazines are subject to change for each individual merchant. Click on the Order Info buttons above to view the most up-to-date prices and information.